Junior Golf Program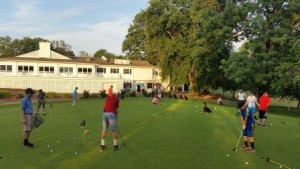 2023 JUNIOR GOLF PROGRAM
Golf-The Game of a Lifetime
I am Benjamin Kopertowski, the newly appointed Assistant Director of Golf at Middletown Country Club. It is with great enthusiasm that I share my aspirations of plans of joining the esteemed PGM program to pursue my goal of becoming a Head Pro. I recently completed my Sports Management degree at Grand Canyon University, which has equipped me with a solid foundation for success in this field. This year, I have the privilege of collaborating with a fellow colleague to oversee the Junior Golf program at Middletown Country Club. Drawing from my valuable coaching experience of three years with the renowned First Tee organization, I am well-versed in guiding aspiring young golfers toward unlocking their potential. For those unfamiliar, the First Tee program primarily focuses on providing inner-city kids with the opportunity to discover golf's fundamentals while instilling core values that extend beyond the fairways, positively influencing their daily lives. It is my profound commitment to embrace and embody these cherished values as we cultivate a thriving Junior Golf program here at Middletown Country Club. Together, we will create an environment where young golfers not only develop their skills but also internalize the essential principles that golf imparts.
I am excited to embark on this journey and look forward to the meaningful impact we will make together.
· Week 1 June 20th-June 23rd 6-8pm
· Week 2 June 27th-June 30th 6-8pm
· Week 3 July 11th- July 14th 6-8pm
· Week 4 July 18th- July 21st 6-8pm
· Week 5 July 25th- July 28th 6-8pm
· Week 6 August 1st- August 4th 6-8pm
Please fill out the form and return it to:
Middletown Country Club Jr. Golf
Middletown Country Club
420 North Bellevue Ave.
Langhorne, PA 19047
The fee is $140.00 per student
(Please make checks payable to Middletown Country Club)