Junior Golf Program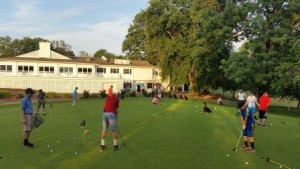 2021 JUNIOR GOLF PROGRAM
Golf-The Game of a Lifetime
Middletown Country Club and the Agro Golf Corporation are proud to introduce our junior golf program for the summer. This is a great opportunity for a junior golfer to begin or further his/her education and progression in the game of golf.  We offer instruction for boys and girls in two different sessions this July.  The lead instructor is PGA Head Golf Professional Dan Hoban.  Dan is a Class A member of the PGA of America and a past member of the Philadelphia Section PGA Growth of the Game Committee and the Junior Golf Committee.  Dan has over 25 years of experience in junior golf instruction and is the head golf coach at Philadelphia's Roman Catholic High School.  Dan Hoban was named the Philadelphia Inquirer 2005 Coach of the Year and is a 2007 inductee of the Roman Catholic High School Sports Hall of Fame as well as a 2013 inductee of the 21st Ward Sports Hall of Fame. His junior golf programs have produced high school golfers throughout the Philadelphia Catholic, Philadelphia Public, Suburban One,  and Catholic Academies leagues.  Many of his students played at the collegiate level or are currently now members of college golf teams and two have become PGA professionals and several others are in the process of obtaining PGA Membership.  Our program follows the premise that we learn from the hole backwards because 70 percent of the shots played in an 18-hole round of golf are located within 75 yards of the green.  Areas that are covered involve rules, etiquette, safety, putting, short game, full swing lessons with irons, hybrids, fairway woods, driver, and bunker play. To conclude each 6-lesson series, a mini-scramble on the course is played by all students to show that our game is supposed to be fun for all levels!
While we hope that the Covid-19 situation improves by mid-June when we begin our programs, we will most certainly follow any and all local and CDC regulations and guidance in place at the time.
Click HERE to print the 2021 Junior Golf Program Application
PLEASE NOTE:  SESSIONS 1, 2, AND 4 ARE NOW FULL.  ALL OTHER SESSIONS HAVE OPENINGS AS OF 6/20/21.
Please fill out the form and return it to:
Middletown Country Club Jr. Golf
Middletown Country Club
420 North Bellevue Ave.
Langhorne, PA 19047
The fee is $125.00 per student
(Please make checks payable to Middletown Country Club)