Clubhouse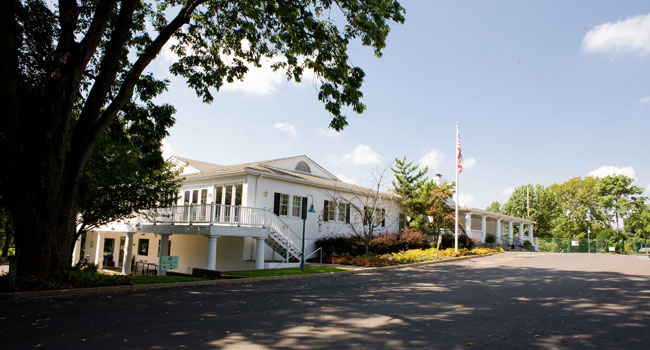 The clubhouse at Middletown Country Club has been standing tall in its present location since 1913.  While a fire in 1955 destroyed the third floor, the building itself is pretty much the same structure that is now designated a historic building by Langhorne Borough.  In an article written in the Bucks County Gazette on May 5, 1904, was the following about the design of the clubhouse:
"Thomas Stephens, designing architect, Masonic Temple Building, Camden, NJ., will send plans out in a little while for a new clubhouse for the Bucks County Country Club to be erected at Langhorne, PA.  It will be two stories and basement high and will be built of stone and frame and will measure 100 by 90 feet.  It will be an L-shaped structure and will have a casino on the first floor to seat about 250 persons.  In the basement will be a bowling alley, shuffleboard, with large dining room 80 square feet on the first floor.  Second floor will have ladies' reception room, assembly room, card room and lavatories.  There will be a large covered porch on the second floor and the structure will be Colonial in design.  It will be heated by steam, wired for electricity and will have the usual appointments."
Built at a cost of $14,000, the cornerstone of the club was laid on July 4th, 1913 by Mr. George T. Van Norman, chairman of the building committee, Charles J. Matthews, club president, and Oliver Randolph Parry, constructing architect.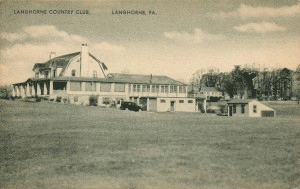 Through the years, the clubhouse interior has undergone many renovations.  The clubhouse of today offers many different venues of hospitality.  The first floor hosts the golf shop, where golfers can check in for their tee time reservations as well as review the latest and trendiest golf merchandise.  Next to the golf shop is Hacker's Pub and Grill, which offers the traditional sports pub atmosphere where golfers as well as the general public can enjoy lunch or dinner in a relaxed atmosphere while watching sports events on five plasma televisions.  The Windsor Room offers an intimate atmosphere where golf outings, small private parties, fantasy sports drafts, business meetings, or bridal/baby showers can be held.  An outdoor patio is accessible from Hacker's Pub that faces the practice putting green and the 1st tee of the golf course. The second floor of the clubhouse plays host to the Manor Room and the Ball Room.  The Manor Room offers an intimate atmosphere that can host smaller events such as bridal/baby showers, funeral luncheons, christenings, and business seminars.  The Ball Room is the prime location for wedding receptions, larger private parties, graduation parties, sweet sixteens, etc.  Both rooms offer beautiful outdoor decks that allow guests to sit outside and relax as well.